Different Applications for Round Slings
Different Applications for Round Slings

Polyester Round Slings can be used in several applications for a variety of industries.
Category Lifting / Published: June-24-2021

Polyester Round Lifting Sling, which fall under the category of synthetic lifting slings, are also referred to as endless loop slings or just round slings.
They are made with load bearing polyester yarns and wrapped with a woven tubular protective polyester jacket . The polyester jacket sleeve ensures durability and safety during lifting or pulling applications.
The color-coded jacket represents their weight rating making them ideal to spot in field work.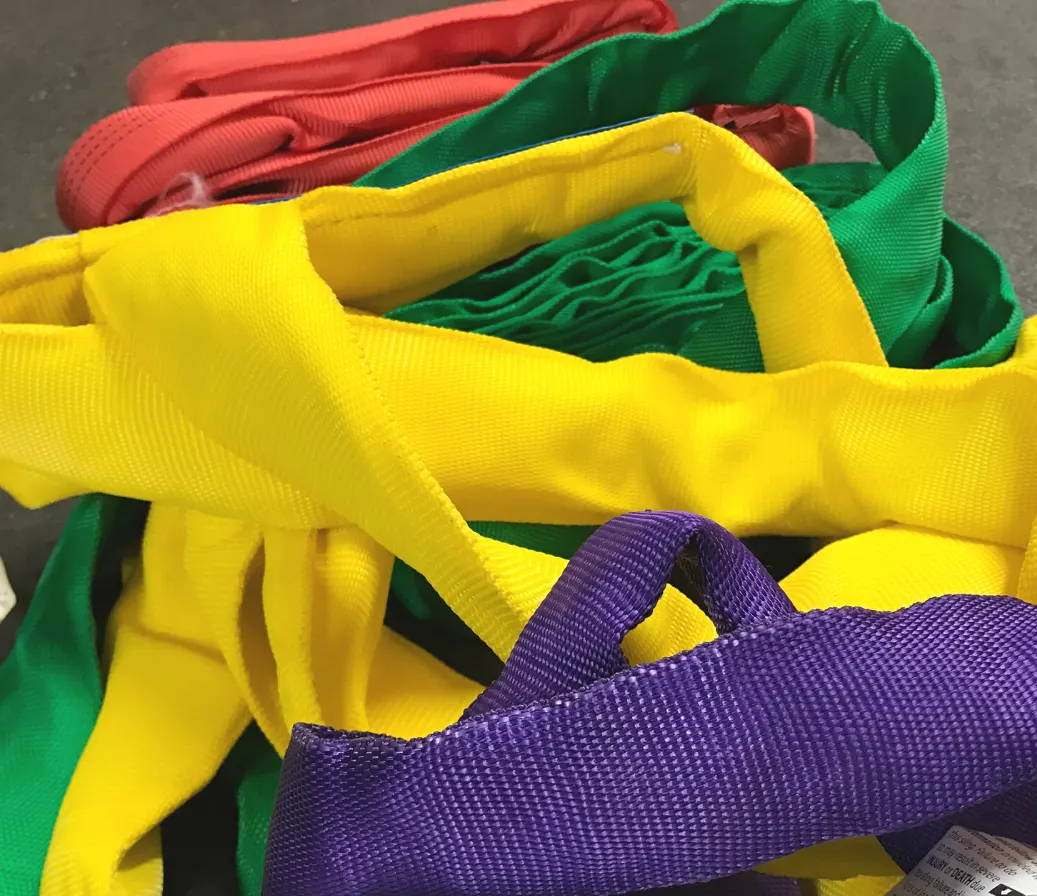 The slings can be used in 3 sling hitches: Vertical, Basket, and Choker. Depending on your application, the hitch you use will vary.
Vertical Hitch
Also know as the straight lift, is the most basic hitch. One end of the sling is connected to the lifting apparatus (hoist or crane) while the other end is connected to an attachment point on the load.
Basket Hitch
Doubling the sling (and also shortening it) will also double the working load limit capacity.
When using the basket hitch more than one sling might be needed to endure load control.
Choke Hitch
Looping the sling within itself and create a choke on the load. This hitch allows for a more secure grab (load stability) but for a lesser capacity working load. The choker hitch is good for short loads but for better load control sometimes several slings are required to choke on both ends of the load for a more stability and load control. Always make sure the slings cannot slide across the load
One of the main advantages of the polyester round sling is its flexibility. It can mold to the shape of delicate and irregularly-shaped load, or be used in a choker hitch to securely grip loads.


Used in an array of industries, Round Slings are a great choice for many lifting applications:
Arborist: Use of both the eye eye round sling (which comes with a cordura wrap/chafe guard) or the standard round sling. Can be used to chock logs for lifting. Set up anchor points like a loop runner. Pulling. Lifting for cranes.
Towing and Recovery: Blue and Orange Round Polyester Slings are used in container lifting. Yellow and green slings are great to slide through the rims of the wheels for pulling applications. Purple slings for light lifting.
Construction: Round slings are lighter than chain slings and can reduce the risk of back and other injuries to construction workers and riggers.
Marine: Round slings for boat lifting are a perfect alternative to nylon or polyester web slings. Low stretch allows for better load control. The soft material won't scratch or damage the load surface.
Use & Safety Considerations:
- Make sure Tag is not missing and is always readable - OSHA requirement.
- Inspect before usage.
- To prevent damaging the sling you should avoid contact with protrusions during lifting, storing, or transport.
- Make sure there are no broken stitching, knots, abrasions, color fading, or cuts. If there are the sling must not be used and taken out of service.
- Red core yarn comes in each sling. It's an additional aid to warn of sling damage. The red thread becomes exposed when the sling is worn or cut.
- Wipe down & store slings in dry cool place for longer life service.
All Lifting Slings come with label that includes size, type, and capacity information. We also supply other lifting products such as
Nylon or Polyester Web Slings, Synthetic Rope Slings, Recovery Slings, and Chain Slings.
Lifting accessories such Synthetic Sling Hardware and Shackles
For product availability and information follow this link:
https://www.baremotion.com/collections/polyester-round-slings
For custom made lengths please email us for a quote: Sales@baremotion.com
All gear should be thoroughly inspected before each and every use. Worn or unsafe rigging and safety gear should never be used. Inspect chain slings regularly and to keep a record of all chain inspections. Products should be used in strict accordance with all industry and OSHA standards.